After counting up the votes that came through email and the votes on the blogger poll, image #7 is the definite winner - however, I did make some changes.
I really liked the original photo but I felt the sky would look better and more tropical if it was clear. Also, I wanted the moon to look brighter and a touch bigger and I wanted to add stars. When I picture this particular scene in the book, I imagine a fairly clear night with a brilliant starry sky.
As I was altering the sky, I decided I still needed to add a bit more of a tropical feel to the rest of the image. Within a few minutes, I had lugged my camera outside and began shooting random leaves from all angles in my front yard. Back at my computer, I turned those into foliage for the bottom of the image. Finally, I plugged the altered photo into Corel Painter 12 and oil painted it using an assortment of brushes. One of my favorites is the flat smeary brush which I used on my lovely model's hair and dress. The purpose for this was because I wanted to create a softer, flowing, more fantasy like feel and the original image was a bit too sharp for what I had pictured.
Anyway, so those are the reasons for the alterations. After all is said and done, here is the final cover for my novel "Sea Dweller".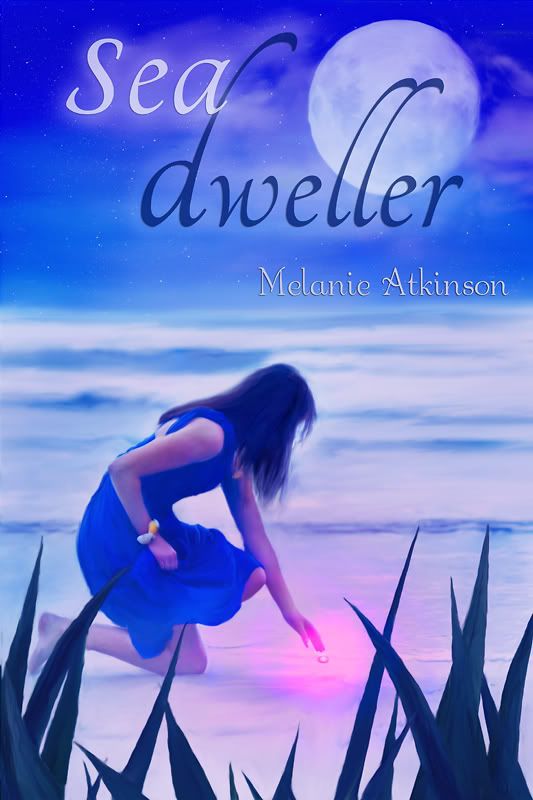 Thank you again for all the feedback and votes! Honestly, it got the ideas flowing and it helped me decide exactly what I wanted to do once I knew which cover was the winner. To be honest, I'm thrilled with it. I think it fits the feel of the story and illustrates a very significant moment in the book.
I also wanted to thank my model, Sydney, for being so fun to work with and for being so patient with me as I asked her to climb up rocks, stand in very cold water, cross a creek (I biffed it three times trying to make it across myself), and swing a sword around (okay - I think she may have thought that part was kind of fun). She was even patient with all the surfers who kept messing up her poses and my shot. Sydney was perfect for the job and I can't thank her enough.
Also, my sister Erin worked as an amazing spotter during this shoot, not only watching for things I missed but helping me come up with ideas and poses. She's an awesome photographer and it was so great to have another artistic eye working with me. I owe her more than I can ever repay.
And finally, my very awesome parents came with me and even drove us all out to the location (I left my van with my husband who definitely needed it while caring for all four of our kids alone all day). With their help, I was able to focus entirely on the photo shoot instead of worrying about trying to figure out how to get to where I wanted to go. I was so grateful to have them there just as support system.
Thus far, this has been such a fun experience and I believe it's bound to get even more interesting as the book is released and my characters' story is shared. I hope you'll stick around.